Equipping the classroom, how to pick the Jackets?
2021-05-17
The Jackets are super expensive, but picking the best Jackets for your outdoor needs is worth the money. Here we compare the differences between hardshell and rain shells, the advantages and disadvantages of various Jackets fabrics, the key indicators that should be taken into consideration when selecting Jackets, and the maintenance experience that keeps your expensive jackets in good order. And skills.
Jackets vs Rain Jackets (hardshell vs rain shell)
When both are new, the waterproof performance of the jacket is not stronger than that of the rain jacket. It is easy to handle a piece of fabric to make it waterproof. The hard part is to make it waterproof while still breathable, and to make it have long-term durability of waterproof breathable performance. If you use the length of time your Jacket keeps the waterproof performance in comparison with its price, you will see that they are completely positive: the more expensive the Jackets stay waterproof longer.
Jackets, as the representative of the best waterproof breathable technology, are made of better materials and processes than rain jackets. Choose the Jackets (average price of US$500/3000 RMB) or the rain jacket (about US$150/900 RMB) (Note: Looks like a lot of domestic rain shells are sold as Jackets). Ultimately, the most basic thing is durability. Think about the outdoor activities that you often participate in. Do you need a more durable jacket in outdoor locations?
We think rain jackets are suitable for ordinary donkeys because they provide reliable waterproof protection and reasonable durability. If you find yourself sprinting in the rain and rushing to your car or cafe more than crossing the Pacific Ridge (Note: Pacific Crest Trail, a long hiking route on the East Coast of the United States, 100-150 miles / 160-240 km) Rain jackets are the best equipment when climbing in the Alps. Rain jackets can not only cope with ordinary outdoor routes, some of our testers bought them to explore routes, such as Antarctica. The Jackets are suitable for strong donkeys who spend a long period of time (weeks to months) crossing high-intensity outdoor routes or staying outdoors. At this point, the Jackets are no doubt the best. They have better materials, higher technology, higher quality and better design (hats, pockets, zippers, drawstrings). Buying Jackets is certainly correct, but are you sure you need to buy a Ferrari sports car or need a 5.0-liter V8 turbo diesel engine? (Note: It means that the position of the jacket in outdoor clothing is similar to that of the Ferrari sports car in the car. The performance is good, but the price is expensive.)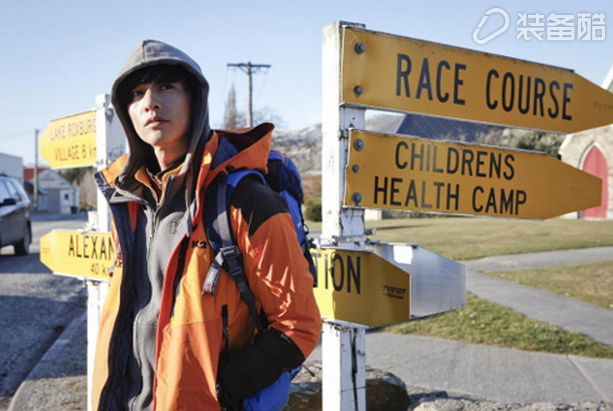 Structure of Jackets
The Jackets we tested have 2 layers, 2.5 layers and 3 layers. The three-layer structure includes: 1) The inner layer material protects the waterproof and breathable film, reduces the friction with the clothes inside and makes you wear and tear freely; 2) The middle is a waterproof breathable film; 3) The outer layer is made of nylon or polyester material Fabric. The three-layer structure jacket is usually the heaviest, the most durable, the most expensive and the most comfortable. The 2.5 layer Jackets have an outer fabric, a waterproof breathable film, and a non-woven inner coating. Most 2-story jackets have exterior fabrics and waterproof coatings. They are the lightest, cheapest, less durable, and less comfortable jackets. All waterproof and breathable materials have a durable water resistant (DWR) coating to prevent the outer fabric from getting wet or being immersed in water vapour.
Durable waterproof coating (DWR), waterproof and breathable technology short board
When the outer fabric of the jacket is soaked, the breathability of the jacket is drastically reduced. Unfortunately, your comfort and wallet are damaged. All DWR coatings will fail after friction, dust, body oils, and continued use. This unavoidable failure (sometimes ineffective for only 1 month) is a shortcoming of waterproof and breathable technology. Jackets breathe only when the outer fabric is dry. (Water vapour on the inside of the garment passes through the waterproof breathable film and will condense into liquid water if it meets the wet outer fabric.) Therefore, you must periodically clean the jacket and restore its durable waterproof coating to ensure its breathability. . (See the end of this article.)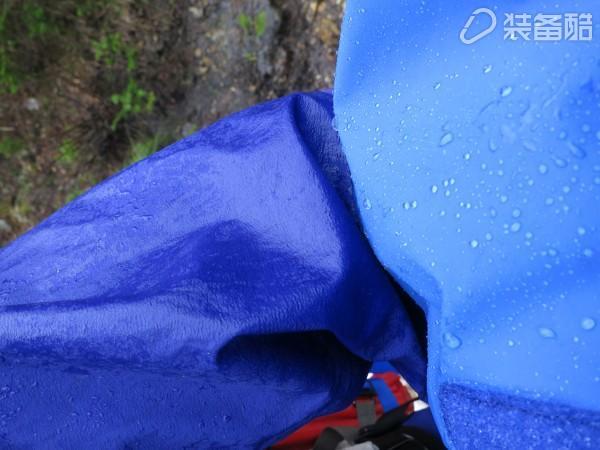 The durable waterproof coating (DWR) of the Archaeopteryx Alpha FL (left) was worn after 40 days of use. The durable waterproof coating (DWR) of the new Arc'teryx Alph SV on the right side for only 3 days is completely effective. The soaked fabric (left side) has reduced breathability and comfort, but it is still waterproof. (Note: Water will form drops of water when DWR is active.)
material
The main conclusion we got from the test is that the special waterproof and breathable technology of Jackets is not as important as the type of jacket (high strength, medium strength, or lightweight), fit and function. The performance of the jacket is mainly composed of its material, its natural life cycle, its weather environment, and product characteristics such as size, ventilation capacity, anti-friction, anti-body grease, and dust-proof function. This means that we will briefly discuss the waterproof and breathable features below. (Note: For the purposes of this article, this statement is obviously not correct, because the following text describes the longest length of waterproof and breathable.)
Although there is no uniform test system in the industry that can provide a reference to the test report on water resistance, the water resistance of clothes can still be measured by the height of water column. This test procedure measures the height of the water column that is vertically pressed against the surface of the material sample and finally leaks. At present, the main water jackets of the jackets are all measured at about 20,000 mm, which is much higher than the water pressure that may be encountered in nature. For example, the torrential rain brought about by the hurricane will produce a water pressure of approximately 7,000 mm, a 30-foot (9-meter) fire hose, and a water pressure of 11,000 mm. So all the Jackets we tested had no problem with waterproofness.
Breathability is the ability of a textile to let water vapor pass through it. This movement of water vapor is caused by the difference in humidity between the inside and the outside of the clothes (when the sport is intense, the humidity inside the clothes will quickly rise close to or reach 100%). There are two ways to pass water vapor through textiles. (1) Air convection: A breathable fabric allows air to carry water vapor directly through it. Materials with larger pores or more pores (mesh) than small pores or few pores (such as eVent, Dry Q) have better gas permeability. However, air convection is bi-directional: external cold wind blows into the jacket, and the heat-generating air in the jacket also flows away. (2) Water vapor passes through solid-phase diffusion (Note: solid state diffusion, at the molecular level, high-density molecules diffuse through the boundary to low-concentration areas) through textiles: Some non-porous textiles allow water vapor to pass through. Waterproof fabrics that are painted when painting do not have this ability, but Gore-tex membranes in the polyurethane layer in the middle of the jacket can do. For example, the chemical characteristics of Gore PacLite membranes can absorb water vapor from the inside of the material, move to the outside through solid-phase diffusion, and allow water vapor to evaporate in the outer layer (steam-liquid-steam). In order for the jacket to be clearly breathable, the relative humidity inside and outside the jacket must be significantly different. If the internal humidity is 95% and the outer 10%, you will feel the water vapor passing through the jacket. But if the internal humidity is 95% and the outside is 95% (it may be raining), then you will not feel breathable, although the water vapor is still diverging through the clothes.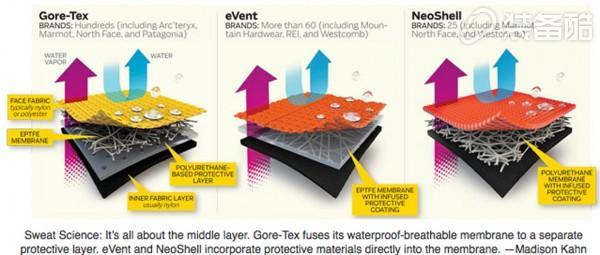 Waterproof and breathable technology contrast
Gore-Tex material
Gore produces 4 major waterproof breathable films for specific end users. The standard Gore-Tex 3-layer film, named Performance Shell, was used for the jacket in the middle layer, various equipment and shoes, but none of the jackets we tested used this film. Pro film, formerly known as Pro Shell and XCR (Extended Comfort Range), is their top product, 35% more breathable than Performance Shell, designed for professional sportsmen such as athletes, guides, etc. Stay outdoors for a very long time (weeks to months). Both Pro and Performance Shell consist of an outer layer of fabric, an ePTFE film, and a micro-grid liner, but the Performance Shell film has a very thin layer. Airtight polyurethane (PU) layer. PacLite is Gore's most affordable film. It was developed for the weekend holiday warriors: they are not outdoors for a long time, hoping to have a jacket that is lighter than the Pro Shell, and does not require Pro Shell's enhanced air permeability and durability. PacLite is a 2.5-layer film that was developed as a waterproof seal and is not suitable for outdoor adventures. It has lower air permeability and comfort than Pro Shell. Of the Jackets we tested, only Beyond Clothing Ridgeback used PacLite film. Active Shell is Gore's newest, lightest and most breathable film. It is a PacLite upgrade, designed for high-intensity, short-term sports (skiing outdoors on weekends, and fast alpine climbing). It is not suitable for wearing it when wearing a 70 pound (32 kilogram) backpack. Active Shell reduces weight and improves breathability by improving the structure. Polyurethane (PU) glues the liner to the film like an adhesive. This process uses less glue than Pro and Performance Shell. In addition, the Active film is thinner than Other Gore films, so its light weight. Our tests have proven that Active Shell is more breathable than all other Gore films. When it is in motion, it is covered with water vapor for a slower period of time. It has less water vapor, and it does very quickly when the exercise intensity is low. Equally important, it looks and feels softer, more like a skin trench coat, unlike Performance, Pro and PacLite - depending on the fabric used - these fabrics are harder and wrinkled. When wearing a garbage bag. (The same issues apply to the different versions of the eVent and Dry Q materials.) Finally, all Gore films have oil-resistant properties - they are resistant to body oils, and the neck, shoulders, and cap areas are the most susceptible to body oils. Interestingly, Patagonia found that the first-generation Active Shell had unsatisfactory oil resistance. They postponed product launches (when all other companies released Active Shell products) and worked with Gore to solve this problem. Awesome, Bata! Each Gore film has the same film and liner, and Jackets manufacturers can choose different outer fabrics. Normally, low denier (Denier) and more dense weaving increase the price of the fabric. This is one of the many reasons why the Arcteryx Alpha SV is nearly twice as expensive as the LL Bean Ascent, although they all use Pro films.
All waterproof and breathable technologies are different. Gore-Tex Performance Shell films contain more than 9 billion tiny pores per square inch (6.5 square centimeters). These pores are 20,000 times smaller than natural water droplets, but 700 times larger than water vapor molecules. But contrary to what the public knows, water vapor does not pass through any kind of Gore-Tex film. In contrast, the thin PU layer of the Performance Shell film forces water vapor through solid-phase diffusion (Note: solid state diffusion, at the molecular level, high concentrations of molecules will diffuse through the boundary toward low concentration regions) through the film - the PU layer absorbs Water vapour turns it into water droplets, which are transported by the membrane to the outside. The water droplets turn back into water vapor and evaporate. As a result, Gore-Tex Pro Shell materials are less air permeable than Dry Hardware's Dry Q Elite materials and eVent materials. But, as we mentioned earlier, the difference in breathability is insignificant and irrelevant when it comes to choosing a jacket. You need to consider the overall composition of the jacket, such as fabric, structure, fit, function and use environment. .
Another aspect of Gore's competitors is that it participates in the design and manufacturing process of all companies that wear Gore's clothing. Any company that uses Gore-Tex materials and signs needs to use Gore's certified factory facilities and machinery. The fabric manufacturer also closely involved in product design and production processes. Each product must comply with Gore's established, professional, non-exhaustive standards manual. For example, if a company wants to use Gore-Tex materials to make jackets, the process is probably: Gore sends fabric samples to the company. The company designs and produces jackets and submits Gore's approval jacket styles. Gore will rigorously analyze various components of the jacket, such as zippers, sealants, caps, wrist buckles, etc. (For example, all Active Shell products must be properly trimmed, with 2, 3 pockets or mesh-lined pockets, as far as possible. Use less glue and weigh less than 14 ounces (397 grams). After the approval of the style, Gore's jacket is subjected to strict waterproof tests, wind tests, and durability tests. If the jacket satisfies the quality requirements in the above tests, Gore will approve that you can produce the jacket, and must be tagged with Gore's company logo - each jacket using Gore-Tex must be hung with a huge, with Gore trademark sign. Although costly and time-consuming, this system has very good results: no "bad" Gore-Tex products. Each piece of Gore material we tested was well-made and well-designed. Even better, all Gore-Tex products have a lifetime warranty with no strings attached. If you are not satisfied with the performance of this product, you can return any product at any time. The warranty contains all the problems that arise in waterproof, durable, and breathable. No other waterproof breathable product manufacturer offers the same warranty.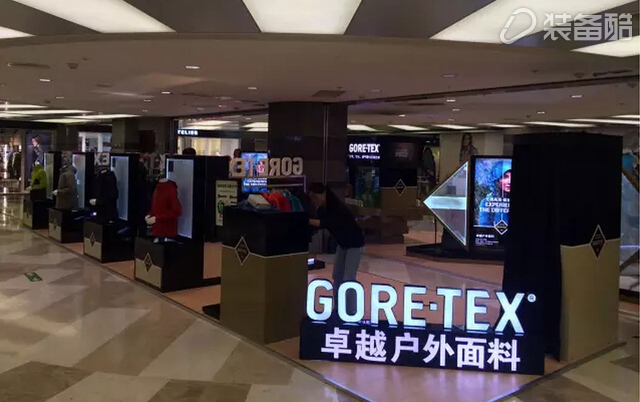 (Note: The length of the hand, the tightness of the tube, and the wideness of the tube, are probably the key to Gore's monopoly in the waterproof and breathable materials market? This kind of overbearing and squealing that all partner companies hate, It's a bottomless love of your own brand! When China can do this, look at the brand and reputation as a fate, and not hesitate to offend all partners' companies?)
eVent material
Gore's biggest competitor is eVent, which produces three layers of breathable ePTFE (elongated PTFE, Teflon) films that are slightly more breathable than Gore-Tex films (they do not have a PU layer) and are said to have less durability. (Note: This is really slick). eVent is used in a variety of fabrics to provide different quality tear and anti-friction capabilities. eVent was invented by the BHA Group and they were acquired by GE in 2004. Unlike Gore-Tex materials, there is no strict monitoring and approval process for using eVent materials, and there is no need to put material labels on sale. Manufacturers can use this material to make any product, called any name.
eVent DVL
eVent is about to release their new 2.5-layer material DVL (Direct Venting Lite) with the goal of a breathable lightweight waterproof breathable material. This material will have a fabric, a traditional eVent-like ePTFE membrane, and a protective pattern printed on the film. Products using eVent DVL will be available in 2013.
Mountain Hardware Dry Q Material
To differentiate their products from Gore-Tex products, Mountain Hardware has developed Dry Q materials, a series of waterproof and breathable membrane materials similar to eVent. Like Gore-Tex materials, they come in several versions. Dry Q Elite, their top-of-the-line material, and Pro Shell in one grade, provide the most durable waterproof breathable protection. Like Gore-Tex and eVent, Dry Q Elite targets different end-consumers by using different fabrics. The large nut is falsely claimed that the Dry Q "will allow the wearer to not be wetted by the sweat in the clothes under any intensity of exercise". Our testers verified that the Dry Q Elite is highly breathable and stronger than the Pro Shell. A lot, but we did not find any difference in the ventilation performance between Dry Q Elite and Active Shell in the real environment. (Note: It should be during high-intensity exercise, when the external humidity is high, the inside of the clothes will still condense, not the big nuts declare never condensate). The large nuts (Mountain Hardware) have a lifetime warranty on the fabric and process. However, in our opinion, the glue and zipper of the clothes are more likely to be damaged than the fabric itself (Note: It should be Tucao without a warranty zipper).
Polartec NeoShell Materials
NeoShell is a recently added "super breathable" waterproof material. Polartec, which is known for producing very good fleece products, uses a breathable, sub-micron PU material. The oil repellency of NeoShell is integrated into the film and not sprayed onto the film like Gore-Tex material. Polartec claims that NeoShell is "the first truly breathable, completely waterproof, temperature-regulating material ever", and provides a lot of data and pictures to try to support this assertion. But our testers did not regard them as one thing. We only tested a jacket made of this material. The Stretch Neo jacket Rab designed for rock climbing verified its breathability and comfort as much as Pro Shell. The guys from "Lighting Light" magazine (The Backpacking Light) conducted a lot of quantitative tests on this material, and they expressed disappointment with the performance of NeoShell. We are very interested in whether the NeoShell material can withstand rigorous testing for a long time. Polartec has just entered the film market and it lacks much experience compared to Gore.
Omni-Dry material from Columbia company
Colombian companies use Omni-Dry materials, another patented technology that claims to be better than all other products. Our testers verified that the breathability of Omni-Dry is comparable to that of ActiveShell, Dry Q Elite and eVent, but more importantly, the characteristics of the models we tested (Columbia's top-rated Compounder jackets) did not match any specific sports, and There are disappointing weights. (Note: This jacket weighs 500 grams and the highest rated Archaeopterygis Alpha FL is 325 grams)
The characteristics of Jackets
Weight and package size
The improved fabric and waterproof breathable film means that the jacket is no longer designed for durability and weight and heavy volume. If you don't need an extra large Jacks, we don't think you need a jacket that weighs more than 16.9 ounces (479 grams). (This is the weight of the Super Durable Super Universal Archaeopteryx Alpha SV Jacket.) (Note: The weight of the Alpha SV in Archaeopteryceps was 19.2 ounces/545 grams, while the weight of the Alpha SV in the outdoor equipment lab's test report was 17.9 ounces.) I don't know where this 16.9 oz comes from? Well, I'm speechless about American mathematics, although he is also a college student.) Packing size and jacket final volume, fabric thickness, and there are no bulky accessories such as armpits Heat zippers, pockets and more. Our testers consistently reached out to grab the lightest and most easily packed Jackets. If you take a sack of more than 20 Jackets in front of you, I guess you will grab it, haha.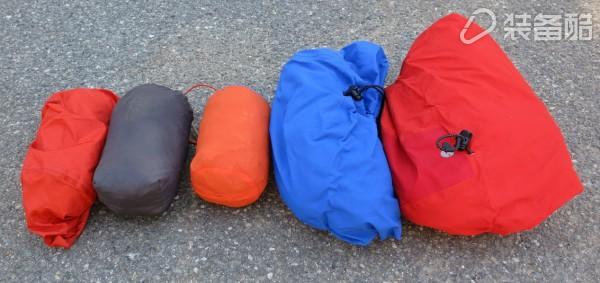 Package size and weight (oz/g), from left to right: large nut Quasar (9.5/269), Archaeopteryx Alpha FL (10.7/303), mammoth Felstrum Half Zip (11.2/318), Archaeopteryx Alpha SV (16.9/479) ), Rab Latok (24.1/683)
pocket
Whether it's a jacket designed for that sporty strength, it's a basic idea to design a pocket over a backpack belt. Many rain jackets and some Jackets (such as LL Bean Ascent, Large Hardware Mountain Hardware Drystein II) did not do this. The higher position of the pocket in the clothes is very helpful for hiking and climbing, but it is not lower and comfortable in the waist pocket.
Some Jackets omit warm pockets. If you experience rain when walking outdoors, your hands may get wet. But you usually wear a pair of gloves. A warm hand pocket is your best partner when you're not wearing gloves, such as when you're hanging out in the city. Our favorite chest pocket is the Arcteryx Alpha SV's pocket. The bellboys' bellowed crossover pockets are large and easy to open. They don't lose balance when you open your pocket (see our test report). Chest pockets are probably the most pocketable stuff, but they don't fit your hands in your pocket. Therefore, some jackets have warm hand pockets, which makes the jackets suitable for a wider range of sports, especially in the city. Interestingly, only a few warm pockets of the Jackets are truly comfortable. Millet K Pro in the 19 Jackets has the most comfortable pockets. Rab Latok has the best chest pockets and warm hand pockets. Although we do not recommend Jackets based on Jackets pocket design, pockets are really a factor to consider when buying Jackets.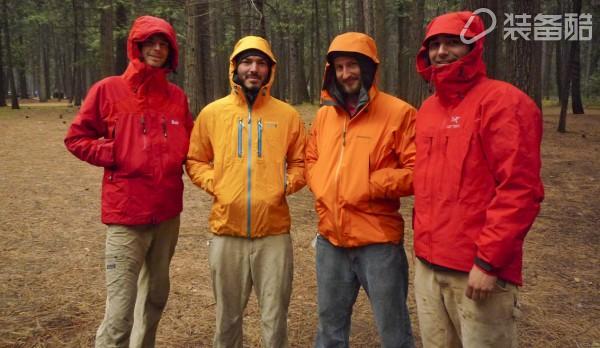 Adventure-type Jackets pocket judge, from left to right: RAB Latok (very good), Large Hardware (Drystein II) (slightly low point), Patagonia Super Pluma (slightly smaller ), Arcteryx Alpha SV (excellent storage space, easy to use, but not easy to let go.)
hat
After the pocket, we believe that the hat is the next most important characteristic of the jacket. It covers your head and blocks falling objects. Having a comfortable and easy-to-adjust hat can make bad weather worse. The best hat we tested was the Arcteryx storm hood on the Alpha SV and Theta SV jackets. The storm cap has 4 adjustment points instead of the usual 3, very large, even if wearing a helmet does not feel tight inside, but there is excellent adjustment ability, wearing a hat without a helmet is also very comfortable.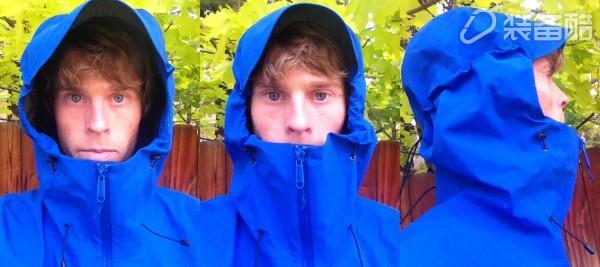 Archeryx Alpha SV Storm Cap: The best hat we have ever tested. He wears a helmet and wears it comfortably. He is still comfortable without a helmet. Notice that the front of the hat completely covers the chin.
Adjustable wristband
Almost every Jackets tested are using Velcro to adjust the wrist. This is the most common, but the cold ice will cause it to fail. Therefore, serious alpine climbers and ice climbers prefer to use fixed-length cuffs without Velcro. In eliminating the Velcro jacket, the cuff design of Mountain Hardware's Quasar jacket is our recommendation. Archeryx Alpha SV has the best (thickest) Velcro cuffs.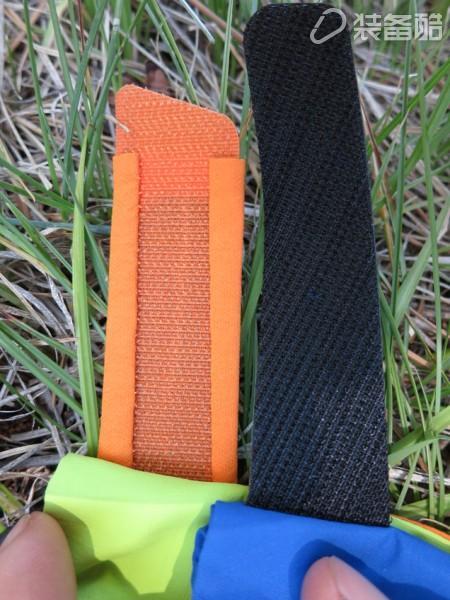 The Super Alpine and Super Pluma jackets in Patagonia (left) are smaller than the magic buckles of the Arcteryx Alpha SV (right). Alpha SV's Velcro (not shown) is also more sticky than Bata's.
Waterproof and breathable
All tested jackets can handle the worst weather. Breathability is based on the different waterproof breathable technology used in Jackets, the style of the Jackets, and the thickness of the fabric. Although the marketing departments of these companies have focused on breathability as their focus, we think this is just one of many indicators for evaluating a high quality Jackets. (Refer to our Jackets evaluation comparison chart and our article discussing breathability.) There is no waterproof breathable technology that can meet the need for high-intensity exercise for breathability, and the need for low-intensity exercise in windy winds. In general, breathable films and thinner fabrics increase breathability. For more information, refer to our article related to Jackets: REI's Rain Equipment: How Does It Work? "Field-tested waterproof breathable technology" of "Outdoor Lightweight" magazine, "Outdoor" magazine's "Crazy Film" (more about the performance of this industry). We reiterate once again that the special waterproof breathable technology used in Jackets is just one of many features that affect its performance. The author believes that the best way to improve the performance of waterproof and breathable materials is to develop a super durable durable waterproof coating (DWR). The future of waterproof and breathable technology should be based on nanotechnology.
Jackets maintenance experience
1, with hat experience
The long-lasting water repellent finish of the protective jackets and fabrics is the most critical place for you to keep warm and dry. When you don't wear a jacket, put it in a hat and put it away. How to do it? : 1) Spread the jacket on a clean flat surface, or put the centerline of your garment on one of your hands and hang it on both sides; (Note: You should pull the zipper up) 2) Put your sleeves on your chest; 3 ) Stack the sides of the garment to the middle and fold it up into 3 layers; 4) Roll it up and put it in the hat. This allows the Jackets to have minimal contact with the dust and dirt in the backpack or camping bag. At the same time, any type of fabric is better than a roll, resulting in fewer wrinkles.
(Note: Everywhere you look at them all! If you translate to here, I can't restrain myself from getting up and stacking my big nut jacket in this way. It really feels like the protection of the clothes is much stronger than usual. I learned another trick, haha!)
2, with sleeping bags use experience
Put the Jackets on the tail of the sleeping bag to prevent the condensate in the tent from wetting the sleeping bag. How to do it? : Pull on the zipper of the jacket and roll the hat and sleeves into the clothes (Note: The hat and sleeves don't seem to need to be rolled up). Put the front jacket on the tail of the sleeping bag. This prevents the condensate (on the inner wall of the tent) from wetting your sleeping bag. This is more important for down sleeping bags than synthetic cotton sleeping bags, but don't do it if your jacket is wet. If you feel bored, release the sleeves of the jacket and pull it off.
3, with windshield jacket (Windshell) experience
When passing through dense forests and shrubs, give your expensive jacket a windproof jacket. Although this is a bit boring, it protects your Jackets and uses windproof jackets to block dust and friction. Windbreakers are cheap and easy to mend. If you don't have a windbreaker, check out our windbreaker evaluation report. (Note: Looks like a ghost is also very distressed Jackets price ah, ha ha!)
4, waterproof breathable performance maintenance experience
4.1. Keep your Jackets as clean as possible
Dust and friction are the enemies of your Jackets. They both wipe away the durable waterproof coating (DWR) and wear the fabric, thus reducing the breathability of the jacket (the fabric will absorb water) (Note: The water inside the garment cannot diffuse out and evaporate after the fabric absorbs water).
4.2. Clean your Jackets frequently
Body oils accumulate on hats, necks, and shoulders, which can reduce the performance of waterproof breathable films. Wash with a washing machine, warm water (104 degrees Fahrenheit / 40 degrees Celsius), use detergent or laundry detergent, do not use softener. ReviveX Synthetic Fabric Cleaner, Granger Performance Wash, and Nikwax Tech Wash are all available as pure soaps. The video below shows how to clean the Jackets.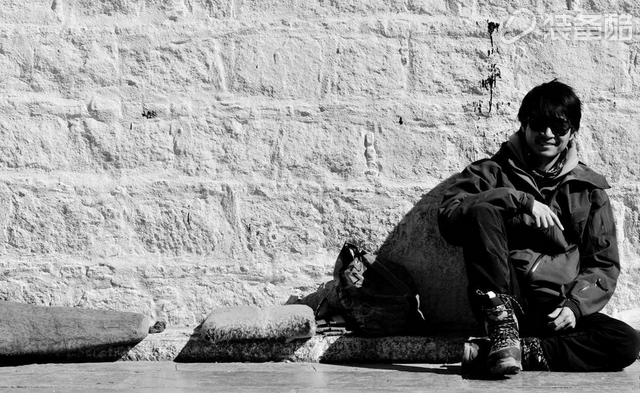 (Note: It seems that domestic enthusiasts will set off a climax for the purchase of cleaning agents and waterproof recovery agents, haha.)
Video 1: http://v.youku.com/v_show/id_XNjg2Njg3ODAw.html
Video 2: http://v.youku.com/v_show/id_XNjg2Njc5ODc2.html
4.3, restoration of durable waterproof coating
If the fabric of the garment begins to soak and begin to absorb water rather than form drops of water, then the durable waterproof coating is worn out. Recovering a durable waterproof coating increases breathability and user comfort. Do this after washing your clothes. Local water remediation agents are better than those added to washing machines because they do not affect the breathability of the clothes. Nikwax's Direct Spray-On and Spray-On are good.
Translator: 巍峨 巍峨 山
Original source: outdoorgearlab.com
Original Title: How to Choose the Best Hardshell Jacket and Care Tips
Original author: Max Neale
Special statement: This article is derived from outdoor equipment laboratories and networks. The copyright of works is owned by the original author and the media they belong to! If you think we have infringed your copyright, please let me know! This site is immediately deleted
FR Jackets has Various multifunctional.for example,Anti-static FR Jackets,anti-UV FR jackets,Anti-Mosquito FR Jackets,Arc Flash FR Jackets Anti-acid and Alkali Jackets and so on. Choose a reliable FR Coverall,FR Jackets,FR Shirts,FR Pants based on the different hazards present at the site.The safety FR long sleeve Jackets can effectively protect your arm,which are widely used in mining minerals, oil, outdoor operations, forestry army and so on. And the FR Jackets are harmless to human body, and do not contain formaldehyde, heavy metal ions and other harmful substances.The FR Jackets has a great quality guarantee.Which has its own laboratory for each piece of cloth after layers of testing and testing.To provide customers with safe and secure FR Jackets.
Fr Jackets
,
Safety Jacket
,
Work Jacket
,
Workwear Jacket
Yiwu Golden Sail Import & Export Co., Ltd http://www.coverallsuits.com